How Homeschooling Kids can travel through English Lessons
We've always been told: "Learn English so that you can use it to travel!" And between a grammar exercise and another, we imagined ourselves asking for directions in a big foreign city, ordering exotic dishes in a restaurant or complaining in perfect English with a grumpy hotel receptionist.
But, what if I say: "Would you like to travel through English?"
How does this offer make you feel? Isn't it more magical to be invited to travel this way? "Through English"?
Suddenly, we pass from "you have to learn it. It is necessary" to "it can be much more fun and interesting". Travelling through English sounds like an attractive proposal that opens up to much more possibilities than eating in a restaurant or arguing in a hotel. It opens up to other cultures.
While building your ESL curriculum for your homeschooling kids or looking for an English tutor for your children, try to go beyond functional language. Functional language is the language we use to order a meal, book a train ticket, talk to a flight attendant. Instead of focusing on it while deciding what to teach to your child, look for unusual topics. They would open to different points of view, other times, and places where English is still spoken. 
For example, it could be interesting for them to find out that not only the Queen speaks English and that her people is not the only English speaking people on earth! English is the official language of more than 70 countries in the world. Imagine an English lesson that also explains why it is so. It would give our children amazing history lessons on colonialism and post-colonialism. It would make them think about oppression. It would take them to countries where life, food and religion are very different from ours (and there we go with geography, cultural anthropology, sociology ... ) — all in English, all through English. 
How do you make your child travel through English? Well, through topics! When you teach about towns, talk about Asian towns. When you teach about food, talk about the differences between Canadian and Caribbean food. You could also ask why food is different in different parts of the world. In this way, you can tickle your children's critical thinking. 
(We love to work on soft skills, don't we?)
We can use tons of topics to make our children travel through English, with the effect of opening their minds and hearts to other cultures. For example, they will be able to order food at a restaurant in an Asian town they know the story of, eat food consciously, travel ethically. They will know who will be in front of them and appreciate the adventure much more. 
Another way to travel through English is by watching Youtube travel vloggers with the intention of learning English.  For example, you could watch  Maria Storgaard's channel: Go Downsize.  
I like Maria's channel because it is about a minimalist lifestyle which allows her to have the budget to travel around the world with her family. Many videos are about tiny houses and advice to inspire us to live the life of our dreams, but there are some videos also dedicated to travels that are adorable and informative.
You could choose one of Maria's videos and watch it with your children in English. Once you've chosen what to watch, activate English subtitles and slow down the speed of the video (as shown in this tutorial). In addition, you can use reverso.com to translate words you don't know and write them on my Words I'm Learning Worksheet to keep track of the number of words you learn every month. 
I will start to talk about English speaking countries on my Youtube Channel too. So subscribe now and don't miss free lessons for your kids and my vlog for parents. All from my vintage trailer, in my garden!
What do you think about my idea of travelling through English? Let me know in the comments below.
If you want to give online courses a try, you could sign your child up for my free seven-week online course: Busy Bee English. 
If you want to get more tips to help your child learn English at home, you can subscribe to my newsletter. I will send you an email once a month (you can unsubscribe anytime) with suggestions about fun listening and speaking activities to enrich your homeschooling curriculum. 
You'll also get my guide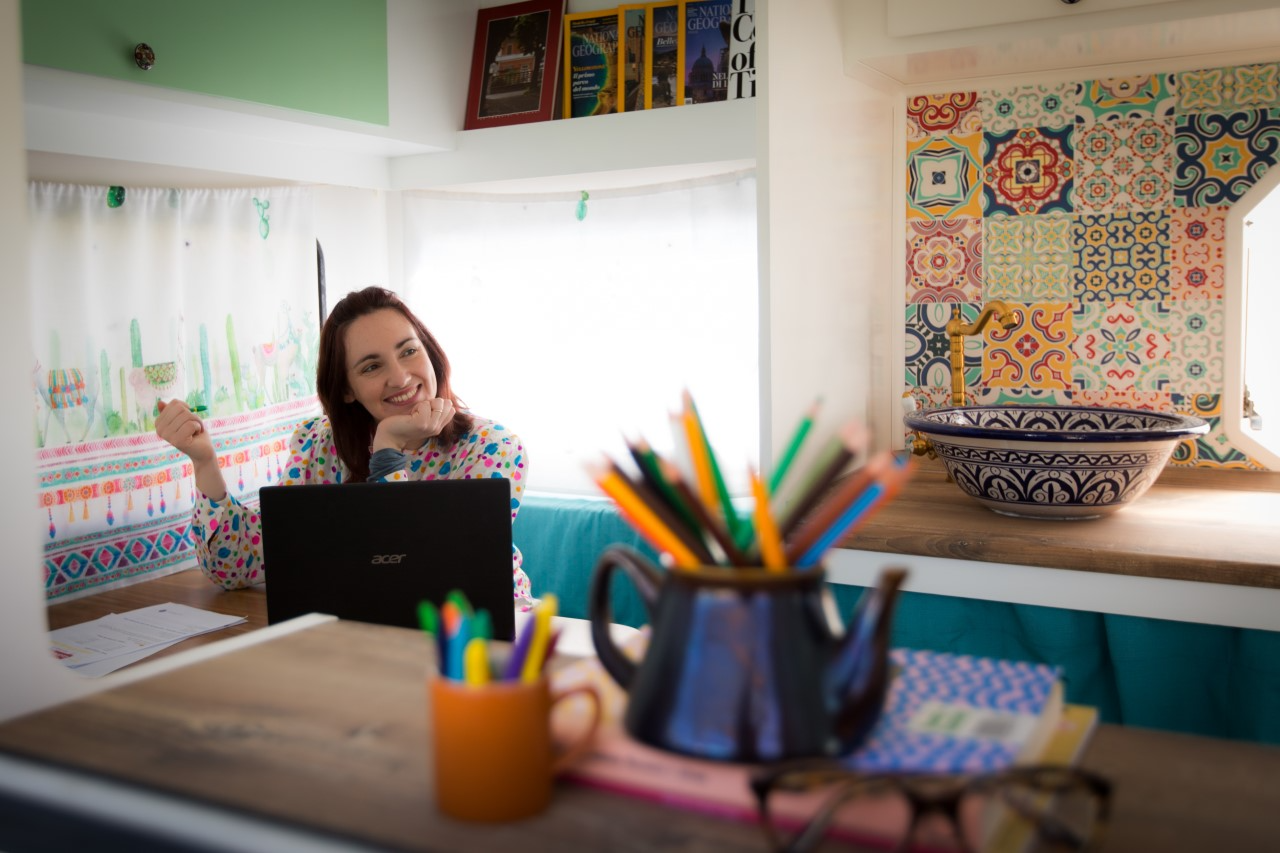 Noemi Bessone
I help homeschooling families find English as a second language curriculum and resources for their children (8 to 12 y.o.)! My motto is: At Home Doesn't Mean Alone! In my international online community. You can find fun activities, inspiring lessons, conversation classes, games and higher-level courses. I'll be glad to have you and your children there!