A Fun ESL Listening Activity for homeschooling
When you build your English as a second language curriculum, you need to include listening activities. Listening is a key skill in language learning. The sooner children get used to it, the better.
Fortunately, it is not difficult to find listening exercises online. Still, one should be careful to select the right activity for his/her child that should fit both level and interest. (Who wants to listen to something we are not interested in? This is not a school. Homeschoolers can personalise their learning, and here is how to do it using what the internet gives us).
You can navigate through websites like learnenglishkids.britishcouncil.org and find standard listening activities (mostly songs and grammar chants),  choose something that is of interest to your child and follow the exercises the site proposes.
Or… you can personalise your child's listening experience (This is what homeschooling is for. Isn't it?)
In fact, you could go to Youtube and choose a song your child already loves. Go through the lyric and look for the language you want to teach.
Let's suppose you want to teach new vocabulary:
go through the lyric and select words you want to teach

teach your child these words (show him/her how to write them and pronounce them).

listen to the song a

nd play this game: stand up, or shake your hips and or clap your hands anytime you hear the selected words (choose max. 3 words/actions per time). Assign a different action to each word. 
You could also use this activity to practise listening to language chunks instead of single words ("Hello, how are you?" - they could stand up and wave their hands - or present continuous sentences if you'd like to focus on grammar you are studying.) Just don't choose too many chunks at a time. I recommend three, then you choose the other three and listen again. 
You could also get your children to choose what chunks or words to listen for by each listening. 
As you can see, this activity doesn't focus on comprehension, but it is more about the reception of sounds and detailed listening - more listening comprehension activities are coming soon. Stay tuned!
What do you think about this activity? What song would your child choose? Don't forget I'm here to help! If you need any advice, pop into the Facebook Group and let me know. 
If you are looking for free ESL resources for your homeschooling, you can download my free ebook for some fun activities inspiration. You can then share your experience or look for support in my Facebook group, Busy Bees English. There, you could share your homeschooling experience related to English teaching to children with other families from all over Europe and find free monthly lessons and conversation classes.
If you want to give online courses a try, you could sign your child up for my free seven-week online course: Busy Bee English. 
If you want to get more tips to help your child learn English at home, you can subscribe to my newsletter. I will send you an email once a month (you can unsubscribe anytime) with suggestions about fun listening and speaking activities to enrich your homeschooling curriculum. 
You'll also get my guide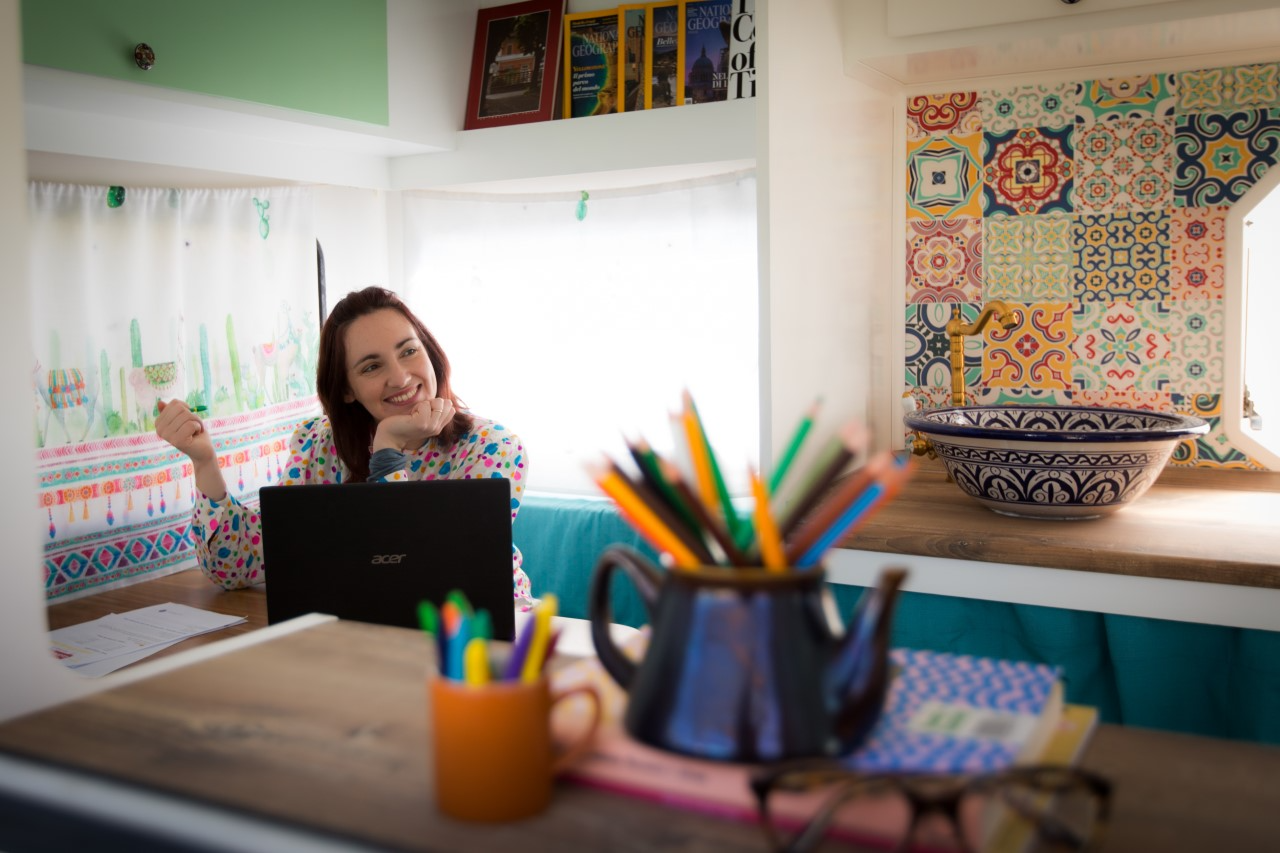 Noemi Bessone
I help homeschooling families find English a second language curriculum and resources for their children (8 to 12 y.o.)! My motto is: At Home Doesn't Mean Alone! In my international online community. You can find fun activities, inspiring lessons, conversation classes, games and higher-level courses. I'll be glad to have you and your children there!