Self-Confidence and English for kids
If you learnt English as a second language at school in the early 2000s, it is highly possible you know that there is nothing more confidence-killing than a teacher shouting at you or, worse, laughing at you when you make mistakes while trying to speak a second language. And what about grades? Teachers constantly monitored what we were doing wrong and not on what we achieved, improved or did better.
We don't want this to happen to our children. We don't want them to spend several years, from high school to university, studying English without speaking it unless it isn't a very predictable situation because they are afraid of making mistakes. This is fear. 
How confident killing is this? We want our children to learn through joy. That doesn't mean denying difficulties but overcoming them with a positive attitude.
The motivation for learning and improving cannot lie in fear, and a grade doesn't shape who our children are. Real learning happens in the real world, and in the real world, you need to communicate clearly and understandably. We have to set this as a goal in our ESL homeschooling curriculum: fun activities that encourage our children to communicate better and better. This will grow their self-confidence, eventually making their English perfect!

Self-confidence is an important goal by English learning, and here are the three elements you need to consider while teaching English as a second language to your child: 
Practice through games. Find fun activities that work on different skills (listening, writing, reading and speaking), and play until you master them. You can find three games ideas here. Games will brush away the fear of making mistakes and the idea that English is only a subject made of boring and difficult grammar.  
Positive feedback.

Right, a moment of growth rather than humiliation. The focus must be on what is done correctly. When our children are learning, they don't need us to continually tell them that they have spelt something wrong, that they've mispronounced a word, or that they have to remember every single word from the word bank in their textbooks. They need to know how well they can communicate their message, despite their mistakes. If you want your children to love English learning (online or at home) when you see them making some mistakes, correct them by repeating the correct language and having them repeat it after you, but emphasising what they have done well. It is also important not to interrupt them but to wait until they have finished to give them your feedback.

The right level.

Make sure you are teaching at the right level. If it is too high, it can be stressful, and the fear of not being good enough will be back. You can test the level of your child before creating your curriculum or choosing a course. 
Now it's your turn, make your homeschooled English a happy moment in which we celebrate every single improvement! In which we raise our 21 century resilient little humans who don't fear to speak their minds!
If you are looking for free ESL resources for your homeschooling, you can download my free ebook for some fun activities inspiration. You can then share your experience or look for support in my Facebook group, Busy Bees English. There, you could share your homeschooling experience related to English teaching to children with other families from all over Europe and find free monthly lessons and conversation classes.
If you want to give online courses a try, you could sign your child up for my free seven-week online course: Busy Bee English. 
If you want to get more tips to help your child learn English at home, you can subscribe to my newsletter. I will send you an email once a month (you can unsubscribe anytime) with suggestions about fun listening and speaking activities to enrich your homeschooling curriculum. 
You'll also get my guide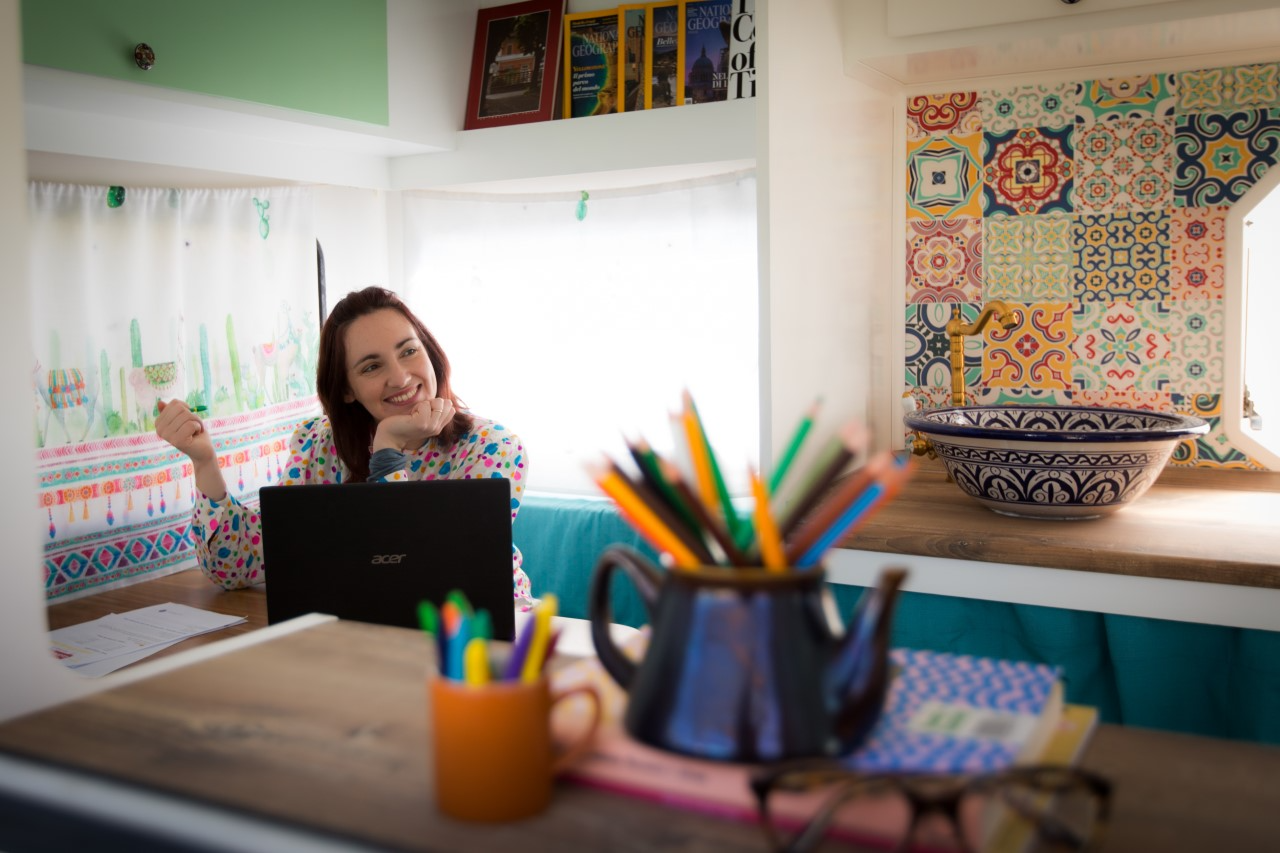 Noemi Bessone
I help homeschooling families find English a second language curriculum and resources for their children (8 to 12 y.o.)! My motto is: At Home Doesn't Mean Alone! In my international online community. You can find fun activities, inspiring lessons, conversation classes, games and higher-level courses. I'll be glad to have you and your children there!