Homeschooling. How to teach soft skills through English as a second language.
As a homeschool mum, you know that education isn't only about rote learning and memory work. Our generation has learnt the hardest way how important it is to be ready for the real world outside books, and this is something that schools most of the time fails to deliver. In most schools learning means sitting still, listening to the teacher and memorize what he/she says without putting into doubt whether what is said is true or false. 
In this way, school forgets to teach soft skills: critical thinking, creativity, emotional intelligence, problem-solving, public speaking, collaboration and resilience. 
As 21st-century parents, we need to raise 21st-century humans who can understand others' emotions, who are not scared of problems, who question everything, who can work with others and speak their minds out loud. 21st-century education should be person-oriented and aim to develop soft skills essential for our children to help them live the life they desire and make decisions in this direction of happiness and self-accomplishment with respect to others' freedom.
Luckily, it is extremely easy to start teaching our kids soft skills through English as a second language curriculum because many skills interwave, allowing you to create the perfect lesson for your 21st-century little human, including fun activities and specific learning purposes. 
Here below, I'm teaching you how to create your soft skills oriented homeschooling ESL curriculum. Each learning unit should include:
purposeful play

to develop critical thinking (analyse, compare, infer information from their surroundings) helps our children make decisions and evaluate a problem. Eventually, they learn to be more open to trying alternative solutions when they meet a problem. For example,

you could pick one game from my 3 ESL Games for homeschooling families ebook.

Each game has a specific learning purpose (listening, reading, writing or learning new words or grammar), but they also encourage children to apply strategies to win or to make the least mistakes (see the games 

Crazy Dance

or

Time Bomb

)

creative activities

to develop their ability to express their ideas and process information faster as they can visualise their auditory information. For example, you could pick the game

Name it

from my

ebook

and unleash your imagination in creating a path. You could also use this game for teaching emotions to children while miming them. In this way, you work on emotional intelligence.

collaborative projects

to teach them to share their ideas and contribute to providing solutions. By English learning at home, collaborative projects are beneficial when older siblings with higher English levels help the smaller ones. For example, in creating the path for the game

Name it

(see my

ebook

for instructions), older kids and younger kids could work on the path together.

positive feedback

moments that teach your child that mistakes are good, and failing is good and asking for help is good. You can read more about this topic

here

. 
I hope this article has helped you better understand what soft skills are and how to apply them to your homeschooling curriculum. It's amazing how teaching English to children can be fun and tailored to our children's happiness and needs. 
I hope you enjoyed my free resources and games, and I can't wait to hear from you. You can let me know your opinions about soft skills and English learning here below, or you can come to my Facebook Group. There, you could share your homeschooling experience related to English teaching to children with other families from all over Europe and find free monthly lessons and conversation classes.
Let's keep in touch! Sign up for my newsletter. Once a month, I will share with you: a fun activity to do with your children and a list of readings and resources to create the perfect English as a second language curriculum for your child.
Wishing you all the best in raising your 21-century humans!
If you want to give online courses a try, you could sign your child up for my free seven-week online course: Busy Bee English. 
If you want to get more tips to help your child learn English at home, you can subscribe to my newsletter. I will send you an email once a month (you can unsubscribe anytime) with suggestions about fun listening and speaking activities to enrich your homeschooling curriculum. 
You'll also get my guide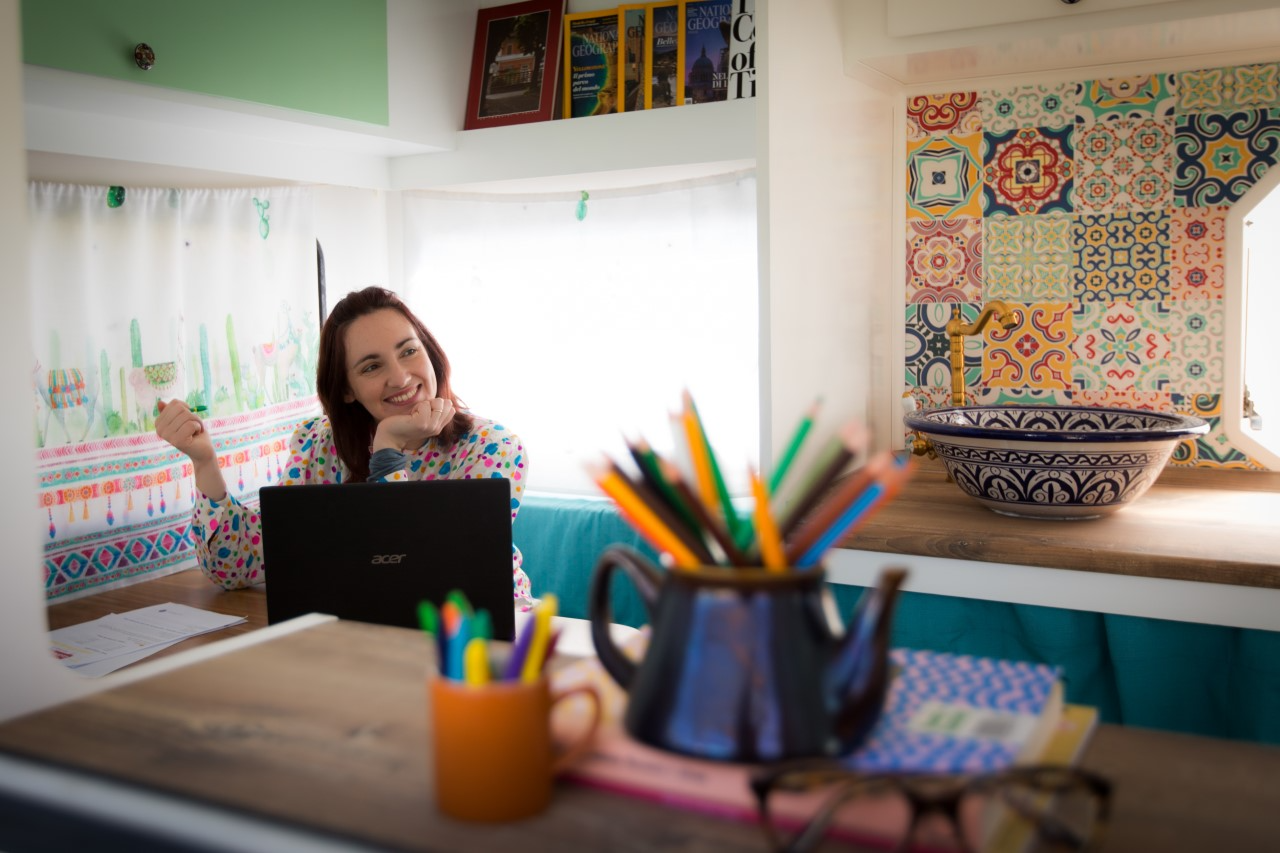 Noemi Bessone
I help homeschooling families find English a second language curriculum and resources for their children (8 to 12 y.o.)! My motto is: At Home Doesn't Mean Alone! In my international online community. You can find fun activities, inspiring lessons, conversation classes, games and higher-level courses. I'll be glad to have you and your children there!