Teach your children not to be afraid of dreaming! - How to make a family vision board (and learn English)
Teach your children that wishes can come true and that they can achieve anything they want as long as they take steps towards their desires, work with joy, learn from failures and have faith. Let's do this while playing Pictionary and making a Family Vision Board.
As the end of this 2020 is approaching, I find myself contemplating this year in an astonished state. For me, 2020 has been the year of dreams. Yes, the pandemic took one member in my family, swept away my classes and courses and turned old clients away. But all of this (included the death of my beloved grandmother) has made my dreams stronger than ever. It cleared some space for studying again, creating new courses, building a website, writing blog posts and working for free all summer long. I jumped into my dream of teaching English to children from all over Europe. In 2021 I will still work at this dream, I'm not giving up, but I don't want to be obsessed with it.
I'm telling you this, because throughout this year I found myself desperate for being seen, desperate for getting money, desperate for a new community and I lost track, I lost the joy of teaching. I don't want this to happen next year. I want to be happy with my job, and I want to bring joy through it and be of service to my lovely little students and their families.
So I translated these wishes into pictures and phrases, which are now hanging on a board above my desk. This board is called Vision Board, and it helps keep focused throughout the year, it helps when we are not motivated and feel giving up. Today I am asking you to make your family vision board, to stay focused on your family's wellbeing and dreams. You will also find a downloadable worksheet and a language guide if you'd like to do this activity in English.
Whereas here below you can see an example of vision board (source: Google Images)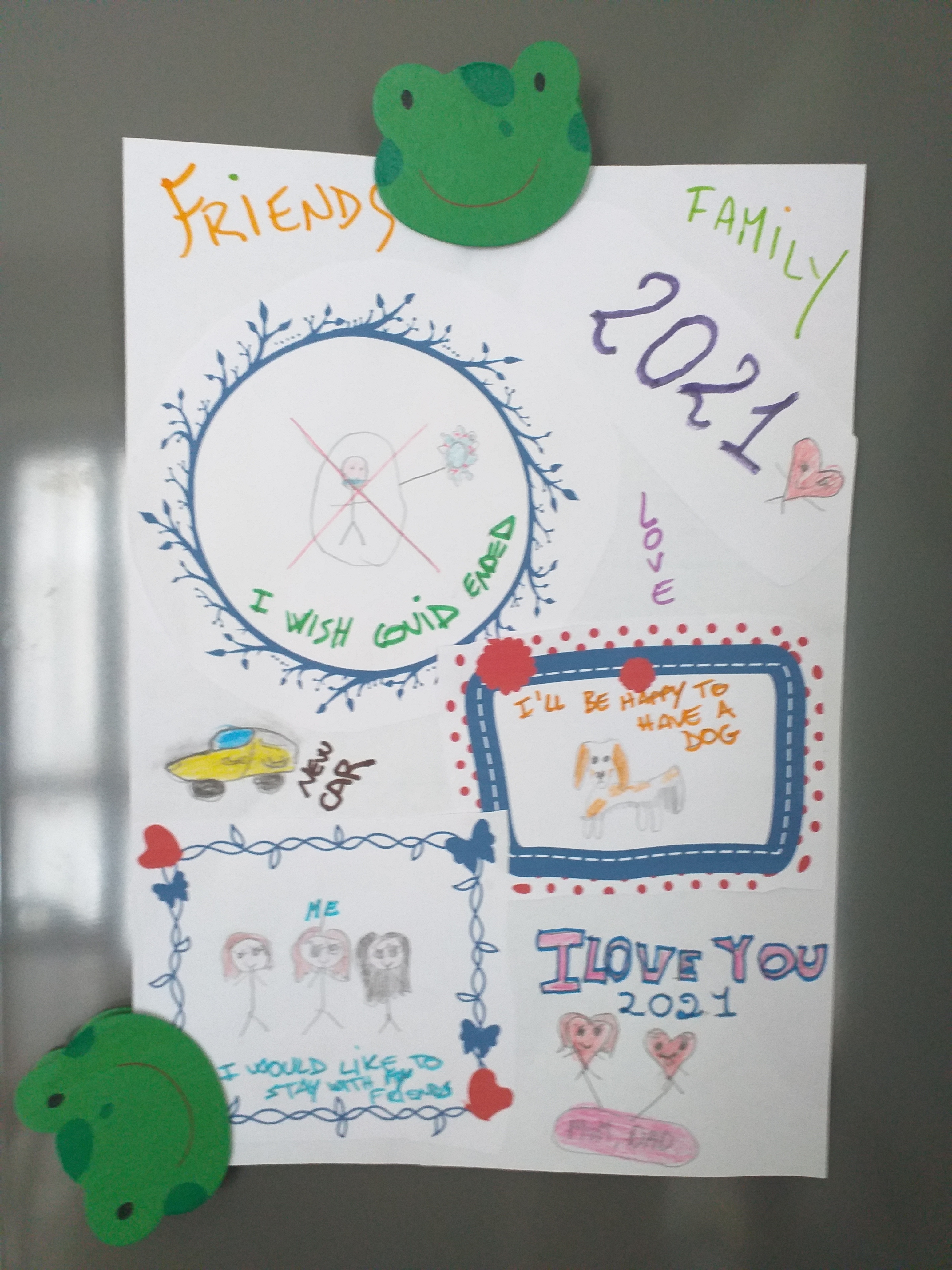 As always, we can turn this activity into a game you can play with your children to bond with them and to bring a little magic in your home. You will need:
My worksheet with frames to cut out, where you and your family members can draw and write about your wishes using the language guide you find here. (You can also watch my video about these resources).
a pinboard, a magnetic board (the fridge could be a good alternative too) or a piece of cardboard where you will stick, pin or add your drawings/wishes
pens, markers, pencils and anything you would like to use to decorate your board
Here is how it works:
Each of you in turns thinks about a wish and draws it onto a small piece of paper. Then the others try to guess what it is. (yeah, it's like Pictionary!). Once you guess the wish, compliment the child and the person who made it, celebrate it and while colouring it together, think about the steps you can take for making each wish come true. Complete the drawing by writing the feeling you would feel when the wish comes true. For example, I wish for a dog. This wish makes me happy. I write happy under the dog. Before adding the drawing to the board, take this final crucial step: Let go! Choose something you have faith in, and say to yourself that you are patient and accept help and guidance from what you believe in. May it be god, a saint, an angel, the universe, or whatever it is you believe in, surrender your desire to it. Letting go helps you not be obsessed about something and live happily while working at your dreams, it helps you enjoy the journey. So, say what resonates with you: "Dear…, these are our wishes for the coming year. We let them to you and wait with patience for your help and guidance." (These words are just an example, you can choose your own words or prayers.)
Before you start to create your fantastic Family Vision Board, let me talk about the importance of teaching your children WHAT to desire. Desire something you can control (you cannot wish for a person to change, someone to fall in love with you, a dead person returning to life, sorry!)
Desire something you can work at. For example, don't wish for others to do what you don't want to do.
Long for something that brings you joy, or that is of service to others, or that makes everyone in your life feel better.
If you are thinking your children will wish for having more toys or more videogames hours, well think again! You'll be mesmerized by what they will wish for. When I did this with my children, I feared they would have asked for more toys or video games hours. But they took it very seriously. They wished for Covid to end and for a dog. Afterwards, we talked about how we could reach these goals. For the dog, the first step was looking for a dog breeding centre. For covid to end, we decided to follow the rules and be careful not to spread it ourselves. For family time, I committed to planning my days carefully to be with them as much as possible.
It's up to you now! Now that you know why you should create a vision board for your family and why it is essential to teach positive attitude towards dreams to your children. Let me know what you think here below.
You can download the frames and the language guide here.
If you decide to engage in this activity and bond with your child in this unique way, please send me your pics! Please email me or post it on Instagram (#teachernoemi) or Facebook (@noemi.bessone.teacher).
I wish you a happy new year from the bottom of my heart!


A big hug!
Teacher Noemi
For more learning tips, don't forget to sign up to my Newsletter.

You could also enter my international community around English Learning by joining my Facebook Group
You May Also Like: