4 TIPS FOR GETTING CHILDREN LOVE ENGLISH ACCORDING TO THEIR LEARNING STYLE
In home education and unschooling, children's interests and personal skills are at the centre of any learning curriculum or lesson plan. Each activity, topic or subject is declined to fit a child's uniqueness. In this blog, I share with you some fun English activities you can propose to your child according to his/her learning style. You'll see the article is aimed at parents who are struggling to help their child learning at home. But I think it can be very interesting for homeschooling families too. 
I recently interviewed Dr Roberta Stefan on my Facebook page. She is a language coach in Milan, and we talked about the difficulties that children and their families can face in the study of English.

Roberta's job is to bring English into families' everyday life. She works to make this language perceived as a fun and useful part of family life and no longer as a mere school subject: "My job is to get English out of school books and really get it into everyday life," Roberta explains "to do this, I start from a basic concept: children live in the here and now. They live in the present and do not understand the advantages they may have in the future by studying English. Rather they understand the importance of something only if they recognize the pleasure in carrying it out and the need to carry it out in the present."

Therefore, as parents, when we have to help our reluctant children study English, we must bear in mind that pleasure and need are the keys to learning for children. A child mustn't commit to studying driven just by extrinsic motivations such as making their parents happy not to hear them yelling or pleasing a teacher because they make the study an end in itself. The challenge is to make the study a pleasant moment that the child feels necessary to satisfy the need for fun. The child's motivation must therefore be intrinsic (coming from within). The first step in learning English is to create a pleasant situation in which to use the language. This can be achieved in a playgroup or in a course that gives ample space to play and makes the study at home a pleasant time rather than a never-ending fight. However, most parents do not know the language very well. They are not teachers and have very little time to help their children.
This is the reason why Roberta lists 3 methods (+1 added by me) in which you can, for example, develop
the study of new vocabulary. But before choosing one of them, it is important to know that there are three preferred learning styles: auditory, visual and kinesthetic. In other words, some children learn by listening, some learn when they visualize things, and words and some must "put their hands on it". The 3+1 activities suggested below meet these three learning styles.
1.  For those who have an auditory learning style: memorize new words by singing them following the melody of your favourite song.
2. For those with a visual learning style:  help them memorize by creating funny and paradoxical mental images. For example, when studying food, draw a picture of broccoli ice cream or a candy soup. This activity will help us remember new vocabulary.
3. Those who have a kinesthetic learning style could write some post-its and stick them to the objects in the house. For example, I covered a person in the family with a post-it indicating a part of the body in English.
     3a) to practice writing: I asked the mothers to hide school objects in the house in strange places. The children would have to look for them and then write down in their notebook where these objects were because I really wanted to read what the mothers would do! In this way, I got a writing exercise without puffs and complaints.
It's interesting to notice how these kinds of activities (playing a scavenger hunt, sticking post-its onto dad's face or singing a favourite song using funny words) meet the need for children's fun. But, of course, these are all games I play in my lessons and online lessons too. So if you are curious about my online courses and would like to give them a try, you can sign up for my free course for kids from 8 to 10, open to kids from all over Europe. 

Now it's your turn. Try one or all of these activities with your reluctant children, ask me for advice if you have more specific needs, and let me know how it went!
If you want to know more about Roberta and her work, you can visit these pages: Tongy or Families and Ireland.
If you want to get more tips to help your child learn English at home, you can subscribe to my newsletter. I will send you an email once a month (you can unsubscribe anytime) with suggestions about fun listening and speaking activities to enrich your homeschooling curriculum. You'll also get my guide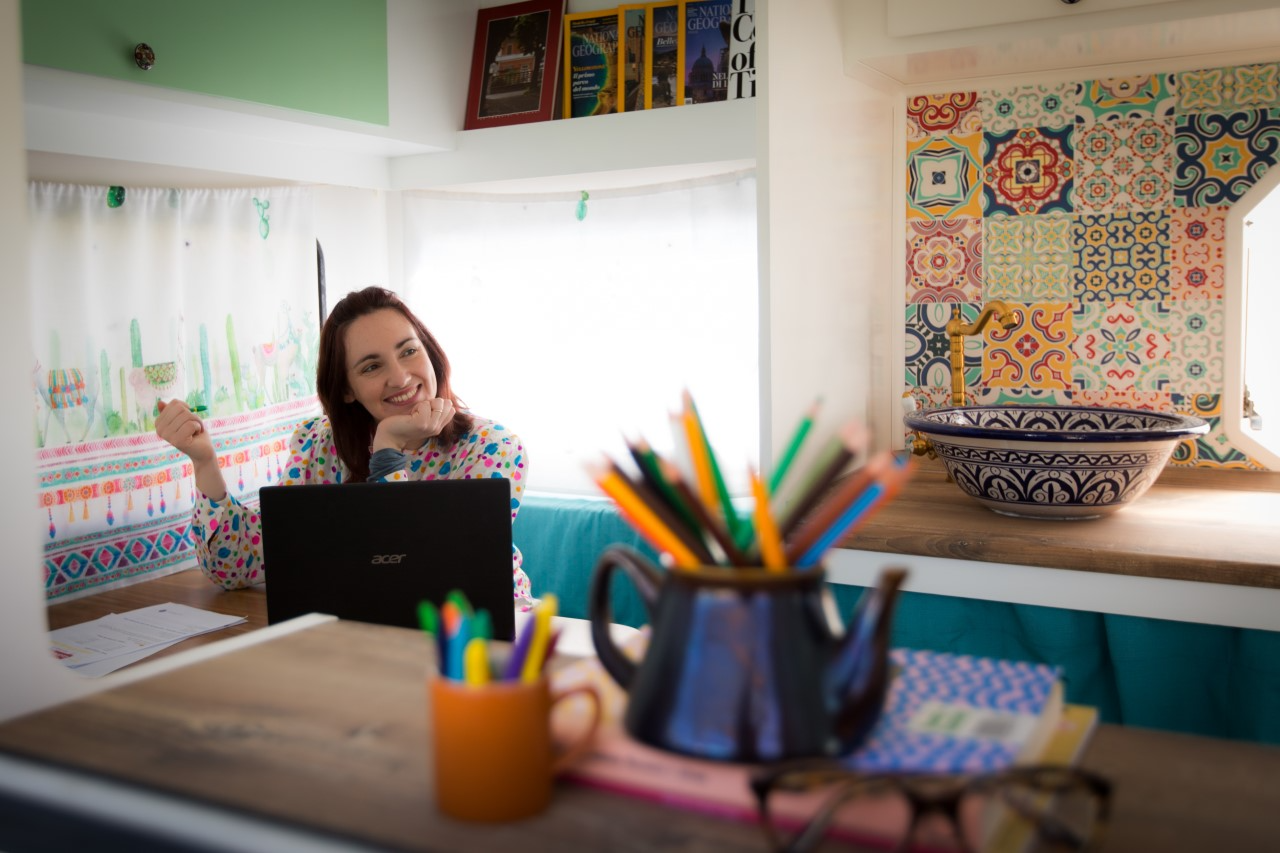 Noemi Bessone
I help homeschooling families find English a second language curriculum and resources for their children (8 to 12 y.o.)! My motto is: At Home Doesn't Mean Alone! In my international online community. You can find fun activities, inspiring lessons, conversation classes, games and higher-level courses. I'll be glad to have you and your children there!